Mariah Methods-
Dear Mariah fans,
believe it or not, we can make a big difference in Mariah's popularity. Mostly online in polls and voting stations. It made seem stupid or maybe even a little superficial, but Mariah deserves to be number one. Now shouldn't the people who can actually sing and make a difference, be at the top?
The banner below, is for our newest campaign, "There's Got To Be A Way" it in fact has it's own webpage. The idea, is to display the banner on your page. And under each banner will be a different link to vote for Mariah somewhere online. Lets make Mariah number one online! Click on the banner to take part! Thanks to the "Mariah Finding Her Rainbow" website for your help and participation.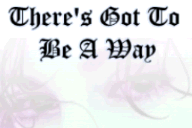 Wanna leave a message for Mariah? Give her words of encouragement and praise? Or just talk to other fans and get to know eachother? This is the place to do it, if you want to talk generally about Mariah!