This month, we have a great amount of scattered subjects. Most of the subjects we write stories about, are what you (Mariah Fans) think are very important issues. We have gossip in LaQuanda's Lair, a new look alike from Atlanta Georgia and more. So enjoy! And if you would like to suggest a topic for us to write about click on the link below!
New News-2/12
On TRL, Dave was hosting today and when 98 degrees came on he mentioned their grammy nomination with Mariah.



New News-Mariah on MTV Make-ups and Break-ups-
February 10th, Mariah was on MTV make-up and break-ups. They showed her wedding, old and new pictures of her, Derek Jeter, Luis Miguel and her talking about being in love.Also, her transition from the days she wore long dresses and was more covered up, to now in her more revealing fashion stage. She even sang a few lines about how much in love she was. I am positive it will be re-played again on MTV, so keep your eyes peeled.


Best Love Song Ever-

On AOL, they had a poll. The poll was to nominate the best love song ever. Mariah came up 9+ times in the category. To give you an idea of what people chose? I nominated My All, and others nominated, When I Saw You, I'll Be There, Endless Love, Always Be My Baby, Hero, Forever, One Sweet Day and Without You. Just to give you an idea. Mariah IS the quenn of love songs anyway and she obviously can keep a tight grip on the title. Go Mariah!

Okay we have some small features here, one of them being about yet another Mariah look-alike. Her name is Lois and she is from Atlanta, Georgia. Lois is a model who happens to resemble Mariah, she says. On her regular modeling jobs, she doesn't model as A Loook alike, but does work as one for the past year.

Rainbow Tour Still has fans Emotional...
by Marina
On Letters To Mariah, we really believe in helping other webmasters, sponsoring and exposing their projects. So, Valentina from Mariah Carey Sunlight, has put together a wonderful project called RAINBOW TOUR EMOTIONS. It is an interactive site, where you can tell your stories of 1999's Rainbow Tour and what you experienced. So click on the banner below and talk about your experience! So, we interveiwed the creator, Valentina of Mariah Carey Sunlight, and asked her a few questions about this great organization!
Marina:Why did you create Rainbbow Tour Emotions?
Valentina:I created the RTE page, because I wanted to publish the emotions and the feelings of who, like me, loves Mariah and was present at the Rainbow Tour.
M:What does your project offer to fans?
V:My projects offer to Mariah fans the possibility to know other fans and other same feelings and emotions. [I think that the Mariah fan emotions are the same]
M:Thats a great way to make freinds! Why did you pick above all, the Rainbow Tour? Beside the fact that it's the most recent tour.
V: I chose the Rainbow Tour, because I saw Mariah's Milan [Italy] Rainbow Tour for the first and only time.
M:When did you experience the Rainbow Tour?
V:February 17, 2000 and I remember the day as the most important day of my life!
M:Wow! I bet that would make Mariah feel special to know! If you could describe the experience in one word, what would it be?
V:Amazing!!
M:Lastly, what do fans have to do to join and is it easy?
V:To join my page fans have one simple step, click on the banner below and send me their story and copy that same banner below for their site [If they have one] and that's all!
Marina: Okay, MC fans. It's simple and easy to do, is a great way to meet other fans and a great way to share a special part of why you love Mariah so much. Hey, we all have Mariah stories, I don't think there is one person I know who just says,I like her music. It's always so much more. I know that the Rainbow Tour was a huge turning point for many Mariah fans. And for that I have even more respect for Mariah.



-Reveiw of Rainbow-
"What began on Butterfly as a departure, ends up on Rainbow, a progression. Perhaps the first compelling proof of Carey's True colors as an artist."-Danyel Smith EW-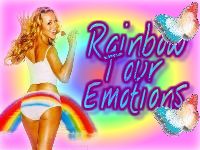 Here are your February MariahScopes!

CAPRICORN-Don't be too much of a Heartbreaker this month, what goes around comes around!
AQUARIOUS-Anytime You Need A Friend, look inside your self for the wisdom you need.
PISCES-Love is in the air and you are a romantic fool, keep on looking for that Dreamlover!
Aries-This month it is time to chill out and take in the Bliss.
Taurus-Don't rush in to any relashionships too fast this month! Remember, Love Takes Time!
Gemini-Don't have a Honey this Valentine's Day? It's okay, that just means your free to fly solo.
Cancer-You may feel a certain amount of Vulnerability, due to the fact that it's a lovey-dovey month, but don't put that guard down and keep your head straight!
Leo-Someone told you they can't live, Without You? Don't get scared, approach it with a calm mind.
Virgo-So your baby might be away from you this month, don't worry, they'll Never Forget You.
Libra-Don't be shy in asking someone to be your Sweetheart. It could result in a storybook romance.
Scorpio-If you want something, Make It Happen, no matter what it may be. You have the power.
Saggitarius-Just because you don't have something you want at this momnet, doesn't mean you won't get it, Someday.
Tell us what you think about these stories,
do you think Mariah and Micheal would sound good together?
Click below!