Those of you, who know a little about Mariah, you know her life hasn't been a bowl of cherries. It's not like she was recruited from some happy sunny high school and transformed into a idolized super star. We can safely say that Mariah had a past and that's what makes her music so special. There are not many singers around Mariah's age now or then, who can write a large aray of songs, with a wide variety of subjects. Because Mariah experienced all things human. And that is what makes her a good song writer. And that is why you notice not many pop singers writing their own music. Some are actually good at it though. Why, people choose to judge Mariah, how do we know? We aren't there, we don't see what happens. We do have a certain amount of faith in who we believe in though. And a lot of people believe in Mariah. And she should always know that we all believe in her, no matter what happens. So Mariah we all gotcha' back!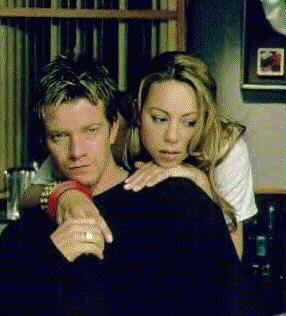 Mariah is the type of person who will succeed in just about anything she has the heart to do. Now with her new film career we have more to look foward to. Mariah, we wish you well. And you don't ever need luck, you were just born to be a star.
*Major Awards*
1990-Three Soul Train Awards
1991-2 Grammy Awards
1991-96-Six American Music Awards
1994-2 Rockefellar Center Awards
1999-Congressional Humanitarian Award:NAACP
Image Award
*Music Videos*
Vision Of Love
Love Take Time
Someday
I Don't Wanna Cry
There's Got To Be A Way
Emotions
Can't Let Go
Make It Happen
I'll Be There
If It's Over
Dreamlover
Hero
Without You
Anytime You Need A Friend
All I Want For Christmas Is You
All I want for Christmas Is You [Re-Mix]
Miss You Most At Christmas Time
Joy To The World
O' Holy Night
Endless Love
Fantasy
One Sweet Day
Open Arms
Always Be My Baby
Forever
Honey
Butterfly
The Roof
Breakdown
My All
My All [Stay Awhile]
Whenever You Call
Sweetheart
When You Believe
I Still Believe
I Still Believe [Damazza Re-mix]
Heartbreaker
Heartbreaker [re-mix]
Thank God I Found You
Thank God I Found You [Make It Last]
Crybaby
Against All Odds
Against All Odds [With Westlife]
Can't Take That Away

*Source-Mariah Carey Dreamlover Page. Thanks, Greg.*
*Home Videos/Movies*
-Mariah Carey-First Vsion
-Mariah Carey MTV Unplugged +3
-Mariah Carey
-Mariah Carey Fantasy Live at Madison
Square Garden
-VH1: Divas Live
-Around The World
-#1's
-The Bachelor
-All That Glitters (or) Glitters
Coming Soon!

Chronology-

1970-Born March 27 to Patricia and Alfred Carey In Long Island New York.
1973-Parents seperate, Mariah and older brother Morgan remain with Patricia and sister Alison leaves with Alfred.
1986-Begins commuting to New York City to write music with Ben Margulies.
1987-Graduates from Harborfeild High School and moves to New York City.
1988-Meets Tommy Mottola and signs contract with Columbia records.
1990-Meets the public with a nine city tour, first self titled album is debuted, goes platinum, hits number one on the Billboard charts, four single from the album hit number one and Mariah is nominated for 5 Grammy awards.
1991-Wins 2 Grammy awards, second album, Emotions, is released, The single "Emotions" hits number one.
1992-Performs on MTV Unplugged, I'll Be Threre, becomes her 6th number one single.
1993-Marries Tommy Mottola, fourth album, MusicBox, is released, Hero and Dreamlover from the album both hit number one.
1994-Tours and her 5th album Merry Christmas, is released.
1995-Releases Daydream, her 6th album. One Sweet Day,Fantasy and Always Be My Baby, from the album both hit number one. Get's involved with the Fresh Air Fund.
1996-Seperates from Tommy Mottola
1997-Release 7th album, Butterfly, Honey and My All from the album hit number one. Divorces Tommy Mottola and begins taking acting lessons.
1998-Named female singer with the most number one singles, when My All hit number one, being her thirteenth number one single. Sings duet with Whitney Houston, wins Oscar for When You Believe.
1999-Releases Rainbow, Thank God I Found You and Heartbreaker from the album, hit number one making that 15 number one singles. Album sales total approach 100 million. Appears in the movie The Bachelor with Chris O'Donnell, begins working on All That Glitters plans.
2000-Films her debut movie: All That Glitters
2001-Works on soundtrack for All That Glitters
Albums-

1990-Mariah Carey
1991-Emotions
1992-MTV Unplugged
1993-Music Box
1994-Merry Christmas
1995-Daydream
1997-Butterfly
1998-Number Ones
1999-Rainbow
2001-All That Glitters Soundtrack


Number One Singles-

1990-Vision Of Love, Love Takes Time
1991- Someday, I Don't Wanna Cry, Emotions
1992-I'll Be There
1993-Dreamlover, Hero
1995-Fantasy, One Sweet Day
1996-Always Be My Baby
1997-Honey
1998-My All
1999- Thank God I Found You, Heartbreaker