About the Webmistress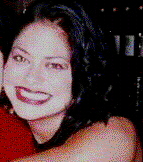 Name: Marina
Creator/Webmistress

Marina lives in New Orleans Louisiana and is 20 years old. She is very professional with her own singing and songwriting, like Mariah.Here we will finally interveiw HER and find some things out!

TJ: You really do write good lyrics!
Marina:" Thanks TJ!I will never be as good as Mariah, but I'd like to think that if everything turns out really good with my music and writing, I can tell her that I owe it to her" says Marina "I guess really seeing [through Mariah] how music can effect so many people, and lyrics from the heart, has driven me more to be more serious about music and not concentrate so much on the fame."
TJ: I hear that. Have you developed your own singing style?
Marina: I'd like to think so. Because I listen to Mariah like, everyday, I am so used to her style of singing and harmonizing with her and stuff, that I have to learn to pull away from ending up biting her style, cause that's the last thing I want to do! I love Gladys Knight, Otis Redding and Elvis. I know thats a weird combination! Throw a little Mahalia Jackson and Mariah in there as well!
TJ: What is your favorite Mariah song and why?
Marina: Definetely Vanishing. Beacuse it definetely proves her vocal abilities, number one and number two, just listen to the song...the composure, lyrics..it's so well written and put together. It's very beautiful.
TJ: What about album and video?
Marina: It's hard to choose just one album, but I'll have to go with Musicbox. Hero was such a turning point song. I think it allowed her fans to grow a lot closer to her. Also With Out you, is by far one of the most beautiful songs. And..video would be, uh, Heartbreaker, because it's so funny and Mariah kicks ass in the video.
TJ: And she walks in on some weird lady! What made you like Mariah?
Marina: Oh, goodness for the lonest time, I only liked randomly listening to her songs, but I didn't really know much about her, therefore I didn't care too much for her [isn't that awful of me?] When Rainbow came out and I heard Petals, it changed everything. Lets just say I can totally relate to Mariah's feelings in that song. Being estranged from a family member especially a sister, is a heartbreaking feeling. That song made me actually feel better about mine. I realized that, hey sometimes people like to see you in pain and even if it's your own blood, you have to move on, like Mariah says, have the strength to break away, rise above and learn from every peice of pain you feel, because pain builds character actually.
TJ: Wow. I know you've talked about working with Mariah in the future, what would you talk her into doing?
Marina: I don't think I could talk the Queen into doing anything! No, just kidding. I am going to be part of a girl group, so it won't just be Mariah and I, so the tension of 2 female solo artists won't be there, ya know? I would love to re-make "Smile" by Nat King Cole, with her I already have really good ideas about how to re-work it. I also, if she would except, love to make a boot-leg Vision Of Love re-mix. I know it sounds weird, but I have some great ideas about how, me and the girls can work the backround of the song with Mariah leading, to where all Mariah fans would love it! I also would love to write with her.
TJ: That would be cool!!!So, why did you start L2M and what are there any goals for the site?
Marina: I started L2M after about a month after I bought Rainbow. I felt, like many, that Mariah deserved a sort of tribute. And though she probably won't see the site, if she ever feels bad, she could come on here and look at what her fans have to say about her. That was the point of the fan letter thing. I started this when Sony was giving her a lot of hell, so I thought it would be good. We have some goals, ya know? We would like to make a fan book, get more members to join the Circle, get a domain and just make Mariah fans feel they have a little haven they can go to to express themselves and not have to worry about being condemed for their feelings.We aren't really concerned about topping other sites, I must say, but you know that TJ.
TJ:What would you want Mariah to see above all?
Marina: Definetely the fan letters, because her fans work hard on them and the News Stories we do. We all put so,so,so much work and thought into those stories and they are on really good subjects.
TJ: What would you tell Mariah if you talked to her?
Marina: I would keep it short. I have a LOT I want to say to her, but I'd try to stay calm. I would tell her that there will NEVER be another individual who is so beautiful all around like her and inspiring to people. And I have never wanted to be like anyone but her! And that I care very much about her and I'd like to keep in touch with her.
TJ:What do you have to say to other fans?
Marina: You got great taste![lol] I think you are all such wonderful people, really. Even if you don't like this site or whatever, you all have just so much heart and put a lot of work into everything you do for Mariah and it is a truly wonderful experience working with you.
So, that wraps it up! Lets look at some facts about MD!


Name: Marina-Gabriella
Birthday:5/2/80 [making her a Taurus]
Favorite colors: Red and Pink
Favorite Movies: Crazy In Alabama, Imitaion of Life, Jerry McGuire, Animal House, Friday and Head Over Heels.
Pets: Uma, the Mascott [Chihuahua] Joey, [parrakeet] and Viv [cocketiel]
Favorie Cds: All Mariah Cd's, Ginuiune 100% Ginuine, Anything by JayZ! I love too many things!
Favorite Groups: I Love O-town actually. All of them have like top notch voices, I like Korn, Fuel, Backstreet Boys,112,3 Doors Down..list goes on.
Favorite Things to do: Sing, sing and sing. I love to dance and walk around in the garden district and the french quarter here in New Orleans. I also love writing music.
Best Friends: My best friends are Melissa and Chris from Arkansas, where I grew up. They are top notch, for real.
Favorite Tv Shows: Friends, for sure. Third Watch and Just Shoot Me.
Family: Mom, Denise, Dad, Dominick, brother , Dominick and sister, Camarie.
HERITAGE: Full blooded Neopoplitan Italian.
Worst thing in the world: Pregudice.
Best thing in the world: Dogs, Cats, Music, Laughter, Love, kool-aid, the color pink, my neice, Haven and 2 nephews Dillon and Taylor and by far most of all, freedom, baby.



About the AllStarz-
My AllStarz are so incredibly precious to me! They have been with me from the beginning and I love them for it. They are a wonderful group of people to work with and I love it. Below are a list of our e-mail addresses as well. There you can e-mail us if you want to talk.
TJ-age:14 From: Staten Island, New York
LQ-age:16 From :Atlanta Georgia
Katy-age:17 From: Columbus, Ohio
Alex-age:21 From: Billings,Montana
Jenny-age:15 From: Okland California
Chanel-age:20 From: Bronx, New York
There is their info. We will definetely be working on their profiles soon! We are all so busy with life and stuff. Please feel free to e-mail any of us and please enjoy the rest of the site.
-Marina