Features: Laura's Love, a story about a Mariah Look-alike who, puts others in front of herself, with the looks of Mariah!

So the phrase is Mariah, often imitated, never duplicated,is just about 100% true. But I think Mariah would love to meet Laura, a look-alike Mariah Carey pro-impersonator, who works to support a number of charities. Here is the low-down on Laura and her look-alike life,love and style. Marina and Laura get down on whats it's like to be a Mariah Twin!

L2M:So, Laura, when was the first time someone told you, you looked like Mariah?
LL:Actually, it all started in highschool, shortly after Vision of Love came out. People I didn't even know at my new school came up to me and commented about my looks and told me I should do talent shows. I never did, because at the time I had no self esteem because of my old school. Kids there made fun of me I guess because I didn't have much money. I hated it, but I believe I'm a stronger person because of it.
L2M: Thats good to know. Do people bug you or ask for autographs?
LL: Yeah, for the last four years, strangers always stare and comment on how I look like her and how cool that is. Of course I say thankyou and it feels great! Especially to look like someone so respected and beautiful inside out!
L2M: When did you decide to make a career of it?
LL: About 4 years ago. It started with a small fundrasier for ill nchildren. It felt so good that I was able to contribute and since then, I guess I took it to another level. I do a lot of paying jobs and it helps to pay for my costumes to do more fundraisers and other jobs, but most of all I truly love the fundraisers because at least if it changes one persons life, it brings us closer to cures for so many illnesses then I know it's a job well done.
L2M: Take us through an appearance.
LL: To take you through the process, getting ready I have to wear my make up a little heavier for the lighting and I have to make sure I put the fake mole on, because I wasn't blessed with that, but I do have one next to my belly that's cute! The actual performance, comes with an announcement, where I usually come out of a hiding place and people go crazy and it's really great, the response is overwelming. Especially because it would be hard to get me in front of a crowd, because I'm so shy and have low self-esteem due to the cruelty of others.
L2M: Do you have a set list?
Not really. I try to do what clients prefer. I like to do Mariah's Theme, because it has inner meaning and it relates to my past and being strong and not letting anyone tear me down as well as what it means to Mariah. I have other favorites, I still believe, Hero and Emotions.I would love to do Heartbreaker, but can't because of the duet part
( with Jay Z )
L2M:That would be really cute! What is your Fav Mariah song and album? Mariah's Theme is my fav song for sentimental reasons, Rainbow and #1's are my favorite albums. But I love everything she has out.

** Laura As Mariah **
Continued...
L2M: So, what was your favorite perofrmance?
LL: When I went to Japan for a yearly look alike show. I still can't believe it. They did a re-mix of a coffee comercial Mariah made there after my Hero performance. I had the time of my life, I'll never forget it! The magazine with pictures will be shipped to me soon and put on my site. I hope Mariah gets to see what I said about her.
L2M: What was it like to win a grammy ( on Queen Latifah )?
LL: It was really cool, though I was upset about some parts they cut out where I talked about the fundraisers and Mariah.
L2M: That is too bad! What is the weirdest experience you've had looking like Mariah?
LL:I was shopping with friends in New York for the day and a French tourist insisted I was Mariah and wanted me to sign her babies jacket. It was weird. I told her I wasn't Mariah, and then she drew a crowds attention, then the next thing you know there's a bunch of people around you! I guess true Mariah fans can only tell the difference.
L2M:Maybe so, but you do look just like her! How does it feel looking like someone else? Especially one of the most popular celebrities today?
LL: When I was single, it was extremely hard to meet a nice guy who liked the Laura side of me. It was mostly focused on the fact that I looked like Mariah. So, I took a different approach, I tried a dating service! I found a guy, we talked for weeks and our personalities just clicked. We've been together now for a while. He comes and tapes my shows, the support is great.
L2M: Thats great to hear! Now, here is the question most everyone is wanting to hear the answer to...What would you say to Mariah if you met her?
LL:I would like to know if she approves of the way I look, and I'd be honored if she likes it! I would love to give her this folder of e-mails that fans sent me about her and me. I think that would be really cool. Plus, I'd like to talk about our childhoods. I think they are very similar, we grew up in Long Island and such. I've never been to one of her concerts and I'd love to attend one and take a picture beside her. And chat with her. If this interveiw was to get to Mariah, I would say Thank You for being such an inspiration to me and trillions out there. I truly believe you're good hearted and your strength is what makes you real and touches us all. Thank You Mariah.
L2M:I think you summed up what everyone would say! In closing, is there anything you'd like to add?
LL: I would like to thank all of those Mariah fans and people who take the time to veiw my site and get to know lAURA. And what I do as a look alike. I love all who write me and hold all of your compliments in my heart! You give me courage to help others in all you do. Thank You all! And thank you Marina for the Interveiw, I hope to see it soon!
L2M: Thank You Laura for joining us. This was truly a great experience!
Our Interveiw with Laura was an enjoyable one. She has taken part in charities galore and is a truly giving and selfless person. Laura does not only look like Mariah, she has a good heart like Mariah.
-Marina



NEW SECTION-
This section belongs to TJ. Something Marina and TJ thought of called MARIAHSCOPES. Just read on.

TJ and Marina's MARIAHSCOPES!

What are MariahScopes? Horoscopes that will be mapped out monthly, but with Mariah Flair! ( for novelty ONLY !! )

MariahScope for this month: January 2001

Capricorn: Now that 2001's here,There's got To Be A Way, to spice up that love life of yours!
Aquarius: 2001 is the year your Dreamlover will come rescue you!
Pisces: 2001 will be a year to be remembered from now until Forever.
Aries: Need a taste of your sweet Honey? Chill the wait is worth it!
Taurus: Feeling like you'll never find a Sweeheart? Be patient and you'll have a story book romance.
Gemini: That One Sweet Day is finally here! You'll see someone you've been longing to see this month.
Cancer: A certain situation makes you ask yourself, "Did I do That??"Uh, yes you did, but don't fret, the awkwardness will pass.
Leo: You won't be the Prisinor any longer!It's a new Year! Time to start the healing process.
Virgo: A night Underneath The Stars, may leave you truly goo-goo eyed! Act only on instinct!
Libra: Your Babydoll may need a little more cuddling this month. They are feeling insecure.
Scorpio: Your Emotions are deeper then you ever dreamed of, you are having the time of your life!
Sagittarius: So, you got a Crybaby on your shoulder? Don't let their problems become yours!

Happy New Year everyone!!





**News!News!News!**

Lovely LaQuanda's Lair-
This month we found bits of news about Mariah and this is the place to gossip about it! Lets start first talking about Tommy M. who has obviously put their bitter break up behind him, by going and marrying Thalia, from the popular soap, Rosalinda. Now, when anyone asks us about his famous ex, he relpis, "Mariah who?" says a source. Ooo! Thats harsh Tommy! According to another source, Tommy made a common mistake that happens with older men and young brides, he kept her like a bird in a guilded cage. But unlike MariahThalia's no wannabe living in the shadows of a mighty mongul.She's been a wealthy star since her teens. Well, woopdeedoo. Good for Thalia. Luckily Mariah has accumulated a kick a** life for herself!-Source:The Mariah Carey Archives (given full credit for the facts)

People toen between being Macy Gray fans and Mariah fans, stress no more. According to a source, Macy and Mariah made up.Last year Macy said uh...and I quote, "I'd love to punch Mariah Carey.She gets on my nerves when I see those videos of hers.I'm six feet tall,so I think I could take her in a fight." Well, Macy honey Mariah is only 4 inches shorter, for the record.I aint hatin' on Macy though. But, according to our source, they kissed and made up, Macy Gray supported Mariah on the opening night of her Rainbow Tour. I'm sure Mariah was just herself and talked to Macy and it changed Macy's mind. Like so many other fools who have been proved wrong about Mariah as a person.

Mariah a Bungee jumper??
Yes, before Mariah's Rainbow Tour was kicked off, she seemed to have gone bungee jumping. "I like the words to be free, to be alive, to be happy and appreciate every moment of life and experience to the fullest, which I don't always do." Cause you work too much! Maybe if Sweet Mariah took out time for herself for a change rather than trying to please us, she could.
"And actually, I went bungee jumping last week for the first time. I thought I'd share that with all of you, not that you care, but it was fun! And it gave you the sensation of being alive and possibly fearing not being alive, so it was very cool." Said Mariah about the experience. Then Mariah kicked off her Rainbow Tour with hopefully a clear and new perspective. So, thats the rave for this month!Happy New Year Babies and be happy!
-LaQuanda



Mariah Sing Alongs:
Yes it's true, there are CD's out on Amazon.com where you can get vocal free Mariah music, with the back up singing and everything still there. It's good for singers to practice to! Go to amazon and check it out. There is a box set with almost all of Mariah's Musicbox and Daydream songs, for around $40. But there are smaller ones for about $12.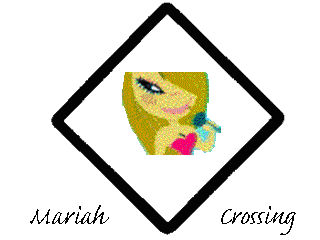 Mariah Encounters:
From E! Online
According to E! Online, this is from a by stander. It's very interesting and sweet.
-I met Mariah and Luis at a resturant in L.A. I'd previously met her, but when I went to say, "Hi" she asked me if we had met before, you look familiar. She is the nicest. A little air-headed, and funny as well. When I mentioned I was a big fan, of both of them and couldn't be happier they're together, they invited me and company to sit with them. We had the best time and I have her number and E-Mail address. We became quite close during that encounter. I still can't believe I befriended Mariah Carey.

The name of this person, is not mentioned for her protection. Source and full credit to: E! Online
Rumors or not Rumors-
by Katy

Here are bits of Mariah news from December, that could very well be true...or not. This is what we found for December at a couple of different sources. Like we said though, we do not have proof the are true, only Mariah can prove rumors about herself! Our main reason for displaying these bits of news are to possibly inform you.
Here are some news bits:

December 12, 2000- Supposedly Mariah will be in Aspen, Colorado for Christmas.
December 10, Christina Aguilera had listed Mariah as her favorite artist for 2000. ( Be checking for our section in the newslounge called "Mariah Twinkies" Christina will be February's Twinkie )
Thats pretty much all! When we get more facts they will be posted. You can always post news on our messageboard!
Until next time!
-Katy/AllStar